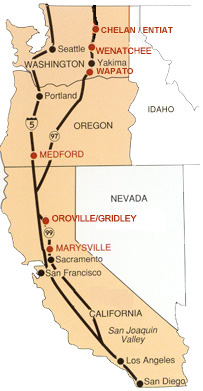 Welcome To Naumes Real Estate Online    
The properties offered on this site are specific for Agriculture, Industrial, Commercial and Land.
Use our Property Search finder to your right >>>
or CLICK HERE for a complete listing of all our properties for sale.
Naumes, Inc., has nearly 40 real estate listings located in Oregon, California, and Washington. They include leased commercial and industrial buildings, processing facilities, producing orchards, cold storage, packing house facilities, vacant structures, bare land for potential redevelopment and properties with aggregate potential.
Browse our online listings to view all available property.
INVESTORS: Get more information about a Development Opportunity in Chelan, Washington.
Contact us for specific information about any of our properties:
Robert Boggess, Real Estate Manager
(541) 608-1732
Send Email
FEATURED PROPERTY:
CHRISTIE ORCHARD – AGGREGATE POTENTIAL
We grow two varieties of pears (comice and bosc) on this 182-acre property located on Lower River Road in Grants Pass along the beautiful Rogue River. This orchard yields approximately 1,850 tons of pears annually and has various labor housing and equipment buildings located on the property.
There is approximately 20 acres of aggregate potential designated by Josephine County as an aggregate resource zone. Josephine County's Comprehensive Plan specifies certain sites for the use and development of natural resources.